Cheap low voltage power cable for sale
Low voltage power cable is one type of power cable. In general, it means 0.6-1kv power cable. As a widely used cable, low voltage underground cable is often laid underground. LV power cable could bear certain mechanical force, but it couldn't bear great pulling force. You can also call it lv power cable. Huadong low voltage armored cable owns high quality, competitive price and our professional service. You can click here to get customized low voltage power cable price now.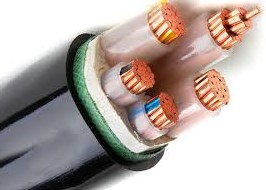 Low Voltage Power Cable
Cores: 1,2,3,4,2+1,3+1 etc
Voltage: 0.6/1KV
Standard:IEC 60502, BS 7870, GB/T12706 Etc.
Conductor Material: Copper/Aluminum
Insulation:XLPE/PE/PVC
Sheath: PVC/PE or LSZH
Armour Type: Galvanized steel wires/ steel tape/steel wire
Nominal Cross-sectional Areas: 2.5mm-1000mm
Main cores of low voltage armoured cable
What's the structure of low price lv power cable?

The structure of lv power cable is very simple, which is compared with mv power cable. It contains conductor, insulation, filling, inner sheath, armoring and outside sheath. With all armoured power cable, the conductor is aluminum or copper, and the insulation can be PVC insulation, XLPE insulation and PE insulation. You can choose any of them according to your needs. After you know your needs, huadong will do the next for you. Cheap low voltage power cable price is waiting for you.
How to choose high-quality low voltage power cable with low price?

When you choose the cross-section of lv armoured cable, you should consider many aspects. In general, you can calculate through determination of long-term allowable ampacity and allowable voltage loss. Expect these factors, you should consider the environmental temperature changing, the soil and other factors. If you don't know how to choose, you can ask the expert. An electrician can solve all problems. You should make sure the cross section is suitable for your using. Professional low voltage power cables manufacturers are waiting for your coming.
How to use cheap lv armoured cable well?
Everyone may want to get a long service life 600v power cable with low price. Expect buying a high-quality 4 core low voltage power cable, you can also pay attention in installation and using. They can help you keep the service life of wire low voltage cable, even longer.

When you install 600v power cable, you should consider the wiring. Choosing a good path can reduce the damage of 4 core lv power cable. Although the armor can increase the ability of compression and tensile, you shouldn't think it won't hurt the 4 core low voltage cable, the same as the termites and mice. The place, which is make cheap low voltage power cable get mechanical damage, vibration, chemical damage, corrosion of water, heat effect and other damage, should be passed. In addition, the place should be easy to maintain, in case of accident happening. If there is some construction land, whether in or will, you shouldn't install low price lv power cable there. It may hurt low price lv armoured cable. Beside installation, you should keep regular checking and maintain. If the cheap low voltage underground cable get short circuit, you can deal with instantly. Now, after the preparation, you can get low voltage power cables price now.
How about the huadong low voltage power cable?

Before you rake the order, you must search low voltage armoured cable online. I am sure you will get many power cable low voltage manufacturers. In the process we buy cables, price will be an important factor, especially in the low budget. You can send their inquiry to get power cable low voltage price, then you can compare. Amony them, you can pick some power cable low voltage suppliers to know deeply. The best way to consider them is to their low voltage power cables factory, and you can know if they have the ability to offer the required cable. There is a saying"It 's better to see it." Hope you can get your wanted pvc low voltage armoured cable.
Huadong is a famous low voltage power cable factory. We sell lv power cable to the all over the word, and we have our main market. If you come to China, you can also see us and hear us. What we can prove is our standard quality. All the low voltage power cable is tested strictly and then get package. As professional low voltage power cable suppliers, we have the rich experience to delivery to you without damage. What's more, if you have any doubt, we can accept the test of third party. As only as you need, as only we have, we can do for you.